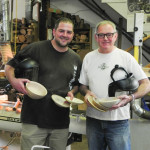 Are you interested in learning how to turn wood on a lathe? Do you live in the Greater Vancouver area, lower mainland or anywhere in the Fraser Valley? I would be happy to help you get started in this enjoyable craft with lessons in our own heated and spacious shop. Lately, some of my students have been turning for quite some time and have been pleased to learn techniques that have taken their turning to a new level – mainly by getting rid of a few bad habits. 🙂  In the words of one of my stars, "I just didn't know what I didn't know".

We live in Langley, just off the #1 freeway at the 232 St. exit, about 45 minutes from central Vancouver. We can also be accessed by any route that includes the #10 highway since that connects with the #1 freeway at the same interchange.
     I've been a wood turner for more than 50 years – since I was a kid – but seriously since 1988. I am sensitive to the needs of new learners, having taught many new wood turners in my own shop and through the two guilds to which I belong. Seeing the need for structured, hands-on learning for new turners I developed a Focus on Fundamentals program for one guild which is now also the framework for the same program in the second guild. I presently teach a variety of woodturning seminars for Lee Valley Tools in Coquitlam.  I have an extensive background in training in the Fire Service, so am no stranger to helping adults learn.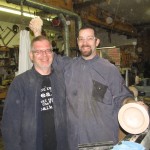 The objective in these sessions is to have fun while learning – and we always do. You will be introduced to proper cutting techniques that produce clean lines and reduces sanding. Many folks have turned in high school but unfortunately were not taught proper techniques. If you are one of those, you will be amazed by the difference. If you have never turned, the process is introduced in a logical and progressive manner in a way that a novice can understand. Safety is of prime importance and all safety equipment is provided along with the proper tools. You will learn about wood characteristics, how to use various turning tools, sharpening, work holding methods and lathes themselves.
     A day is about 6 hours in the shop, usually starting at 9:30 and ending at 4:00 but those times are not fixed. In the past I offered single day sessions but have found that there's not enough time in one session to learn the skills required for a new turner to continue on their own. As a result I offer a minimum two-day session with the option to extend at a discount. I will teach faceplate turning (bowls) or turning on center (spindles) but both cannot be adequately taught in one session. I prefer to train new turners one at a time, allowing for closer attention to individual needs. I have on occasion taken two in one class – either members of the same family or friends.
All wood, safety equipment  and tools are provided. We don't have any restaurants nearby so it's a good idea to bring a light lunch.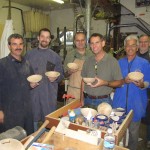 If turners have some experience at an intermediate level, I can customize a session for a maximum of four (maximum 6 if two participants are able to bring mini lathes). For these turners I can offer training in specific areas of turning and wood colouring. If you are a wood shop teacher I have conducted a few class specifically for high school teachers on Pro D days both in their shops and my own.  Participants must bring their own tools and any wood specific to their project. You are, however, free to use any of  my tools to try something you may not have. While here, you may want to include a concentrated session on sharpening.

I offer a minimum two day rate and a discount for booking a third day at the student's discreation. Please contact me for details.
Contact me through this website: [email protected].
Testimonials
From Sinisa
Hi Ed
I wish to thank you again for inviting me to your workshop and showing unselfishly wood-turning secrets.  The whole experience was unforgettable. I woke up this morning and felt like going to the workshop to continue where we left yesterday.
Also a big thanks to your wife for a nice lunch.
Definitely, I'll get a lathe and start doing wood-turning.
Sinisa
From Kim and PJ Burns
Kim and PJ were here on a "date night" to simply experience woodturning. She commented on the session in her blog; http://burnsdatenight.blogspot.ca/2013/06/pretty-amazing-woodturning-date-night.html.  Apparently PJ decided to purchase a lathe after the session.
From John
Hi Ed,
I just wanted to thank you again for your instructions in our three days together. I was at a workshop yesterday supported by our Island's Woodturners Guild here in Victoria who was hosting Alan Stirt. I was a little concerned about going and being able to stay up with the other 4 experienced woodturners from our guild, then after I saw Alan turn a piece of eastern maple into shavings and form the back of his bowl, beautifully done I might say, in about a minute I  went from concern to nervous. However as the day started and listening to your voice in the back of head I managed to get through quite well and even managed to get a complement or two from Alan on some of by cuts…."Let the wood come to the tool" was what I kept hearing.
Thanks again.
John
Communities best served by our location are:
West Vancouver, North Vancouver, Vancouver, Burnaby, New Westminster, Coquitlam, Port Coquitlam, Port Moody, Maple Ridge, Mission, Agassiz, Harrison Hot Springs, Chilliwack and Abbotsford. I've had people from as far away as Hope, Squamish, Merrit and even Washington State in my shop for classes.