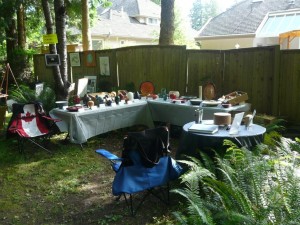 After the Wood Coop Gallery closed down, we took our wares door to door and came upon the Arnold Mikelson Mind and Matter Gallery. Mary Mikelson felt my work worthy and accepted us into her gallery. At the same time she encouraged us to participate in her annual Festival of the Arts in July. To make a long story short we altered our summer plans, burned the midnight oil to produce a body of work large enough to enter the festival and got our display organized. As you can see from the photos it was an outdoor affair in a wonderful setting.
It was generally a poor year, with all the regular attendees complaining about low sales volume. We only sold three pieces but there were many who sold nothing. We learned a lot about presentation, what people liked and that people in fact truly admired my work. One lady had to be convinced that "Venetian Trilogy" was not  glass and another lady asked "What am I looking at?". She was confused because some looked like wood, other pieces looked like glass and she couldn't believe that the coloured, highly figured wood hadn't been hand painted. She meant it as a compliment and I was most grateful. We got some very good exposure, had direct offers to show my work in two other galleries and one to participate in the Arts at Darts festival as a result. Well worth the time, I would say.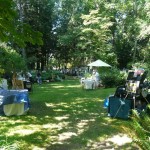 Although we didn't sell much (times are tough) I would still encourage any artist to participate in an art festival (not a craft show) simply because of the exposure and how much you will learn.
As always, I encourage your comments and questions, so please refer to the tag line at the bottom of the article to post a comment.